This story starts with a book.
That book came about because my daughters challenged and encouraged me to see what would happen if I played catch every day for an entire year.
That year of playing catch gave me just enough confidence in my minimal baseball skills to commit to trying out for the Grip 'N' Rip Baseball League in 2019.
That commitment to trying out connected me to Mark who, for some unknown reason, agreed to help me practice in preparation.
And playing in the GRBL is why I'm trying to stay in good shape and why my want list is filled with things that would make 10-year-old me happy — a new glove and new bats and a good practice tee and a bat backpack and hitting lessons and throwing out a first pitch for the Royals and…
At the beginning of the 2021 season, I wrote my reasons for playing in the GRBL, why this league that makes weekend schedules awkward for a couple of months matters so much to me.
"Being my third season in the league, I have expanded my list to three goals. First, to again play a complete season and not get injured. Second, to be the best teammate possible. Third, to pass on my love of the game to the next generation."
This game connects generations, teaches us how to deal with failure, and develops perseverance and empathy. Baseball is a game, which means we get to play, and playing is one of the best ways to catch a glimpse of heaven breaking into earth. And when adults commit time and energy to playing together, for the love of a game, good things can happen.
To encourage the next generation and with the help of GRBL fans and sponsors, gloves were purchased to give to high school ballplayers in need. Before Sunday's game, I gave a new Wilson glove to Chris Meza, the manager of the Republic Locos, and to Cole Roark, manager of the Branson Showmen. Two more ballplayers will get a little extra encouragement to keep playing.**
Before Sunday's game, I played catch with Ducks' starting pitcher Chris Matlock.
It was the first time I'd played catch with the two-time All-American closer and former minor leaguer. I absolutely delighted in watching how he manipulated the ball and have had several good laughs in the dugout listening to and learning from him.
And before Sunday's game, I connected with Branch.
Branch is a fifth grader. A few weeks ago, he gave a presentation on A Year of Playing Catch.
My book was the subject of a book report. I couldn't believe it.
It just so happened that the teacher of the class in which Branch gave that report is one of my good friends, Josh. Josh sent me a picture of Branch with the book cover displayed on the white board behind him. It made my week. In response, I wrote a letter to Branch. I told him that not only did I write about baseball, but I also played. I invited Branch and his family to come to one of my games as my guest. I was elated when we found a date that worked. Branch threw out the first pitch and joined me on the field afterwards for a game of catch.
I visited with him a little bit in between innings, and he cheered me up when the Ducks were losing.
"That's okay, my team lost a lot, too. It's part of the game," Branch said with a smile.
Named after his great, great, great grand-uncle Branch Rickey, Branch is a Royals fan. His great, great, great grand-uncle would be proud, I'm certain. His favorite player is Nicky Lopez, who was the first Royals shortstop to hit .300 for a season. (I would love to take a hitting lesson from Nicky.) Branch shared stories of his family's adventure at their cabin in Wyoming, as well as watching Rookie of the Year across Kansas — going from the cabin to play in a baseball tournament in KC and back to the cabin. We talked about pitching, he showed me his grips on his fastballs, and we watched the glove-flip communication as the pitchers warmed up in the game after mine. Branch said he liked reading the story of Little Bear, a game of catch which took place at this same ballpark, a game of catch that crossed language barriers and also used a lot of glove-flip communication.
Branch was at the game when A Year of Playing Catch was presented with an award. I was running out to left field in the top of the second inning when Kevin yelled at me and motioned for me to join him near home plate. Kevin is the COO of the GRBL and basically makes sure everything happens that's supposed to happen. As a player, I always want to stay on Kevin's good side. I still feel kind of guilty for telling him No when it came to dancing in between innings. No one paid admission to see me dance. This body has zero dance moves.
Throughout the final day of games in The GRBL regular season, Grippy Awards were presented to various players. Michael Scott's Dundie Awards have nothing on Grippy Awards. As I stood next to Kevin, the stadium's public address announcer read the following:
Receiving a literary award is the most prestigious accomplishment that a writer and creator can achieve. The Grip 'N' Rip Baseball League's Steve Lael Prize for Literature is awarded to an author who best encapsulates high-level storytelling with dedication to literary craftsmanship and a demonstration of the true spirit of baseball. This year's Steve Lael Prize for Literature award goes to the author of "A Year of Playing Catch," which you can find wherever books are sold. From the Ozark Mountain Ducks… Ethan Bryan.
I was honored to receive the award named after the long-time Branson coach and catch-partner (day #137). I never expected to get an actual trophy this season. It will be on my writing desk for years to come.
Branch was also at the game when my batting average was born.
In the bottom of the second inning, I stepped up to the plate against Showmen pitcher Andy Galle.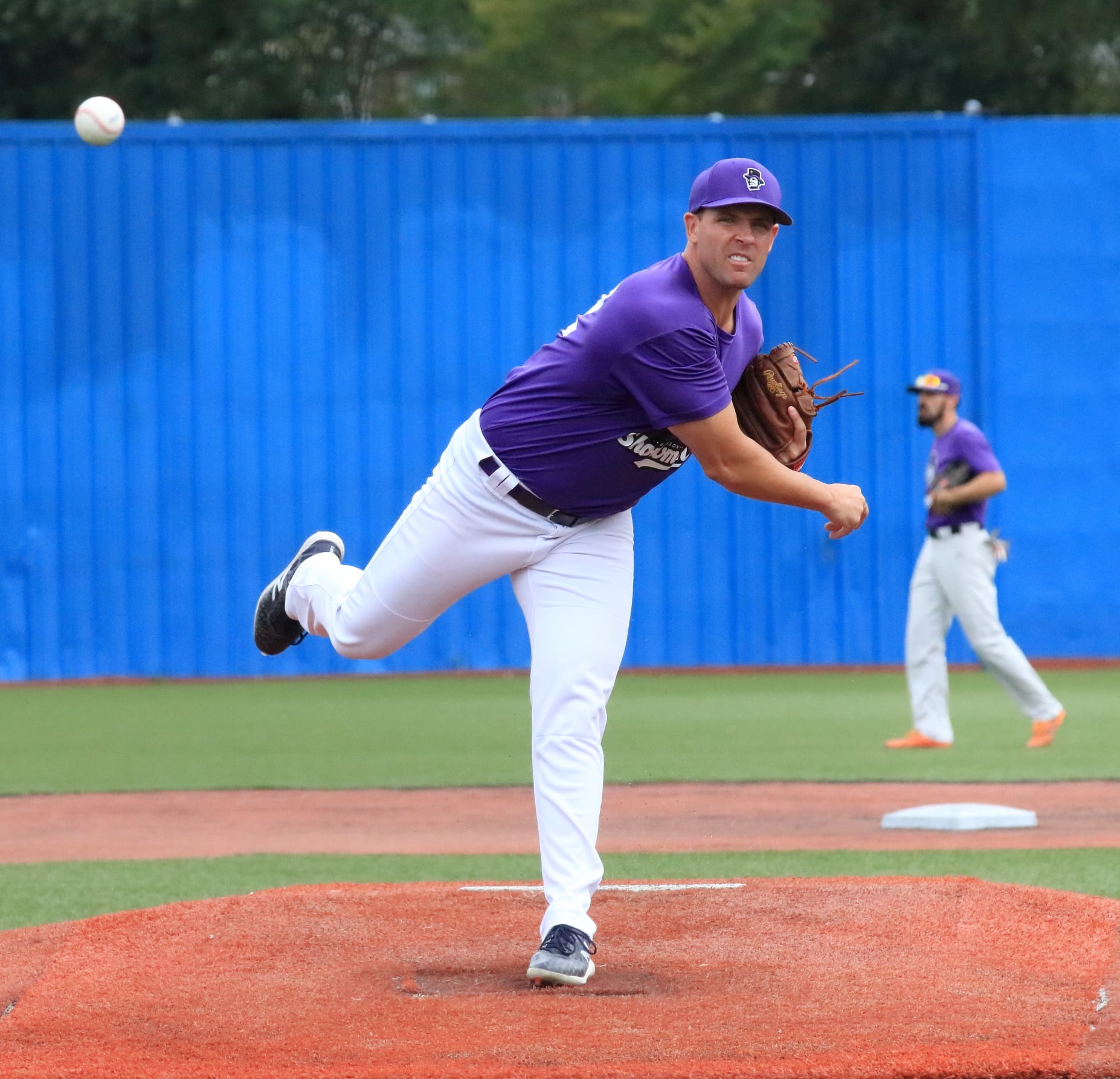 Andy is another former minor league pitcher and was the 2020 GRBL Pitcher of the Year. This season, to me, it seems that Andy's throwing even harder and spotting his fastball even better than last year.
Yippee.
I have video proof of what happened next, which is a good thing, because it all happened so fast.
I remember walking toward the plate and picking up Chris Matlock's bat as he singled in front of me. I tossed the bat back toward the dugout and heard my walk-up music begin playing, the theme to The Incredibles, and tapped the shin guards of Showmen catcher Robert Fackrell.
"You're due for one now, aren't you?" he asked.
I knew what he meant. But that also means I'm about three decades overdue for a home run.
And then my memory goes blank.
Video review showed this happened.
The next thing I remember, I'm standing next to Showmen first baseman Toby Yorks, who once gave Sophie a scuba lesson, who doesn't let anyone escape his trash talk. I smiled and said, "It's good to see you from here."
Toby laughed.
I have had an official batting average in each of my three seasons in the GRBL. And, naïve as it may seem, I still think my best season is in my future.
The Ducks lost to the Showmen and finished the regular season in second place, earning a first week bye in the postseason.
After the game, Branch joined me on the field for catch on a perfectly beautiful early evening in southwest Missouri. I threw grounders and pop-ups and attempted knuckleballs because that's what you're supposed to do when you play catch. It's possible, in another fifteen to twenty years, he'll be a candidate to play in the GRBL. He'd make a great Ozark Mountain Duck, I can confirm that blue looks good on him.
We watched a few innings of the Mavericks and Mets, then I drove home and collapsed in my recliner, too tired to shower and change. I checked my texts on my flip phone and noticed a message from Jason.
A little over a year ago, Jason emailed me and asked for my permission to attempt to play catch every day for a year. He had read the book and had some ideas for making his own attempt unique and meaningful.
I told him he didn't need to ask for permission from me whatsoever, and then proceeded to give him my fullest blessing and cheer him on. Jason just completed his catch playing year and his journey is incredibly inspiring. Thank you, Jason, for sharing your story with me and congratulations!
This story started with a book that was inspired by my daughters.
They were instrumental in helping me rediscover the wonder, power, and necessity of play. They helped me see that baseball stories really can make a difference in this world.
To thank them, I am embarking on a new quest. I have written two novels, one about music, one about art.
The next quest is to get both of them published.
While I work toward that quest, a quest which will probably take a couple of years to complete, the GRBL playoffs start next week. The Moon City Mavericks and Ozark Mountain Ducks will be watching with great interest to see who they will be playing on October 17.
Keep playing.
Keep dreaming.
See you at the ballpark.
**If either ballplayer wants to join me on the field for a game of catch, just let me know.